A few weeks ago, I made Banana Blueberry muffins, inspired by this recipe for Blueberry Pecan Banana muffins. Not as cool as Totoro cream puffs (amazing, right?), but still yummy. Here's a picture followed by the recipe: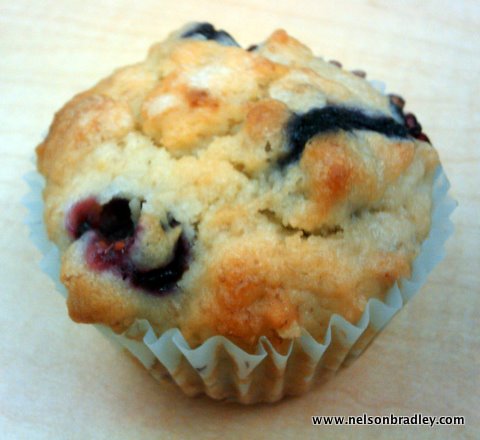 Banana Blueberry Muffin Recipe | makes 12 — (I did 3x this)
Ingedients:
1 1/2 cups all purpose flour
2/3 cup sugar
1 1/2 teaspoons baking powder
1/4 teaspoon salt
1 cup mashed ripe bananas (about 2 large)
1 large egg
1/2 cup unsalted butter, melted
1/4 cup milk
1 tsp vanilla extract
1/2 cup fresh blueberries
muffin baking liners
Directions:
Preheat oven to 350°F. Line twelve muffin cups with muffin liners. Sprinkle the blueberries with a little of the flour so that they don't sink to the bottom during baking. Mix the rest of the flour, sugar, baking powder and salt in large bowl. Combine mashed bananas, egg, melted butter, milk and vanilla in a smaller bowl. Stir banana mixture into dry ingredients just until blended (do not overmix).
Divide batter among prepared muffin cups, filling each about 3/4 full. Bake muffins until tops are pale golden and a toothpick inserted into center comes out moist, but with no crumbs, about 30 minutes. Transfer muffins to rack, cool. (They're really good freshly out of the oven too though)